I wasn't thinking about writing about Michael Jackson (M.J.)
in my blog, but when I was watching his memorial service on
the news in this afternoon, I had this emotion of his music and
how I saw America as a young girl and I had to write
my childhood memories in here.
My sister made me a mix tape when I was 6 or 7 years old.
It was my first cassette tape ever.
In that tape, side A was M.J. and side B was Culture Club. (Awesome!)
I still remembered the tape because it was one of my favorite tape of all time.
I listened it over and over and over.
Obviously, I did not understand English then and therefore I had no clue
what he is singing or what he is saying, but all what I remembered was
I like "Beat It". I sang that part along with M.J. and wishing one day,
I can speak his language.
When "Thriller" came out in 1982, I was 6 years old.
Dad got us a "The Making of Michael Jackson's Thriller" Beta tape
and we were glued to the television screens to watch it.
Again, as you can imagine, we watched this tape over and over and over.
I thought the video was amazing! (and still is!)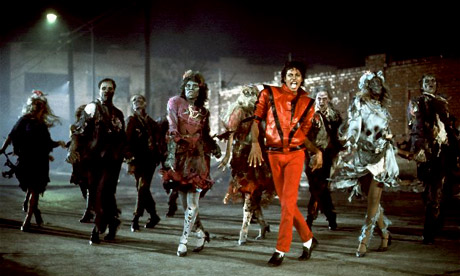 I remembered watching Grammy Award and asked my dad
"What can I do to be there? And I want to get a Grammy Award too!"
and my dad told me that everything is possible in America.
I think that was the beginning point of my American dream.
Also, watching making of "We Are the World", I thought America is
such a unified and freedom country compared to Japan.
That song made me wanted to live in the U.S. and be friends with
different kids from different background.
To me, my 80s was the peak of American pop culture.
Michael Jackson reminds me of how I saw America in my childhood.
He was my childhood symbol of hope and courage to do something
that I've ever imagined that I can do as a young child.
He made America so attractive to 6 years old Japanese girl that
I wanted to come to the U.S. and live in that dream.
I've never thought about moving to U.S. alone and
married to an American husband.
27 years later, after listening to my first Michael Jackson music,
I am living in my dream country, America.
Now I do understand what he is singing about, what he is saying and
I do still like "Beat It" just like when I was a little girl.
Today, watching his memorial service, Michael Jackson brings back
my childhood memories. His songs always reminds me of
my sister and I listening to his album together or me and dad watching
M.J. video on MTV in the living room in winter vacation or
whole entire family listening and singing M.J. in a rental car when
we were driving from LA to San Francisco in our first US trip.
These were good times for me and still are, every time when
I listen to Michael Jackson songs.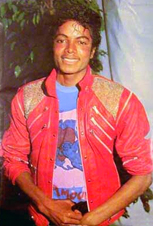 This is Michael Jackson that I remembered from my childhood.
Red jacket, white glove.
I decided that's how I want to remembered him and I hope he is rest in peace.